More and more people are now choosing online shopping over anything else. This is because eCommerce, apart from helping the store owners, offers convenience to a greater extent to all the users. And especially when the whole world is shut down in a pandemic, it hard for any of us to go outside. But still, the necessities remain the same. So a convenient and a safer option to get basic utilities is through online stores. It is a piece of good news for all the eCommerce website owners. But it is also a wake-up call, to have a good website, as there is nothing worse than having a cluttered website. It would look so unprofessional and will lead to losing your valuable customers. After all, nobody wants to surf a site that is so confusing. Statistics have proven that nearly 55 percent of website users are willing to spend only 15 seconds on a company's site, if it goes beyond that, they lose interest and leave in search of a better navigable site. This means you are giving away your customers to your competitors, just because you do not have a user-friendly site. And so a cluttered site would affect your business in a great way. You may have awesome products, with the best in quality stuff, but with a cluttered site, you can not draw in traffic, and hence cannot gain profit in your business.
So the best and simple solution to this problem is by developing a one page website. But what is a one page site? How can it benefit you in developing your business? What are the pros and cons of deploying a single page site? We'll address these questions that are bothering you, right here.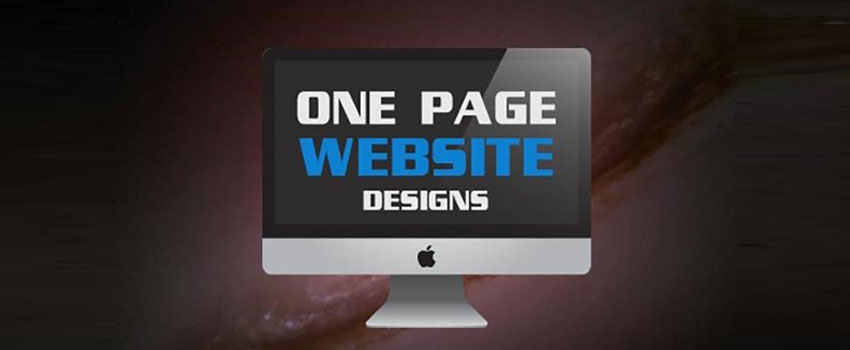 What Is A One Page Site?
A one page website is a website that is only in a single page without any additional pages for About, Terms and Services and things like that. It utilizes just one HTML page. All the content is made to be fitted in a single webpage that is in a long-scrolling layout. It doesn't mean that one page sites cannot be user friendly. We say so because one page sites do have menu bars like any other run-of-the-mill website. But when you select a menu item, instead of transporting you to separate pages, it will just drop the users down to a predefined HTML anchor that is on the site's single page. These functions are achieved through CSS3, JavaScript, Ajax and jQuery. At times, there can be exceptions made for essential pages like Privacy, Terms, Shipping, 404, and blogs. It would be best if they are liked from the footer of the website. Although a single-page website may sound easy, it requires a lot of effort to develop and deploy a site. And so you have to put in a lot of consideration before deciding on a website design.
These websites can be great for those who want to are targeting a specific audience. Because it would be easy to control their behaviour on your site and steer them in a particular direction.
What Are The Benefits Of Having A One Page Website?
Though it is primarily used by numerous creatives, it can also prove to be useful for many multinational companies. They can be temporarily deployed as preview pages and placeholders to start promotional activities before a big launch.
One page sites enhance the user experience. Unlike multi-page sites, it allows visitors to make quicker decisions. Because one page sites promote one thing in a very direct and uncluttered manner. When bloated with too many options like in a multipage website, users may get confused and misled.
A one page website also becomes a landing page when it encourages action. Its objectives can be to urge the visitor to download, join a newsletter, a SaaS sign, or a commerce transaction. Because of its no clutter user experience, it will make it easier for the user to focus on conversions.
Creating: The process of creating a single-page website is way faster and requires less time when compared to building a larger site that is filled with multiple pages. Although the page designs may take a longer time, as the HTML is more complicated, in the long term it is considered as a quicker option.
Maintenance: When compared to larger sites, maintaining a one page website is very easy. Especially when the content needs to be updated. Because everything is in a single page it is easy to find the location of it.
It will also make it easier for owners to draft copies for a one page site. So they learn to be more concise in their product and service descriptions. This is because one page sites are design-driven and so the copy has to be kept as minimal as possible. And customers like to receive the cliff's notes about what your company is and what it does.
One page websites are much easier to be converted to a mobile device. As many people who own devices such as a tablet or smartphone can also be your prospective clients, and they find it comparatively hard to navigate through multipage sites. Therefore, it will no doubt increase your business.
What Are The Disadvantages Of Having A One Page Website?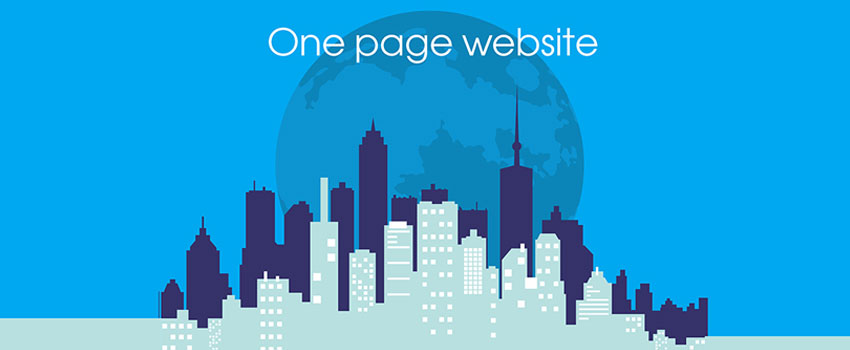 Everything has their own downside, as nothing in the world is perfect. Although they are incredibly refreshing and dynamic, marketing tool, it doesn't mean that it is perfect for all. Let us also have a look at its cons.
Some developers argue that swapping a multi-page site in favour of a single page site can be detrimental to a company's online visibility. This is because when all the information is on a single page you won't have the benefit of being able to index multiple pages. As with various meta description and keywords, your services and products would appear more on search engines, which would not be possible in a one-page website.
Related posts