A good web design is crucial for a business to thrive. Because it impacts the way your audience will perceive you. We have always heard that 'the first impression is the best impression.' Your website gives the first impression of your brand to a visitor. It will also determine whether the user will stay on your site and learn about business or leave your site to check out one of your competitors. Whilst, an excellent web design will help you keep your leads on your page. Apart from helping you form a good impression, a well-designed website will help you get more conversions. Moreover, it will provide a good user experience and will enable the visitor to access and navigate your website easily.
As your website is the most important aspect of your brand's online presence, it is more than essential to design it right. Otherwise, you will have to afford to lose your valuable prospective customers. None of us wants to be in that state, right? And that is why we need a good website design. The best design is something that will cater to your needs and is done with your audience in mind. It is also crucial for your site to provide a good user experience. And that is why we need a bespoke web design. But what is a bespoke web design? How will it help us? That is precisely what this article is going to explain to you. So without further ado, let's get started.
What Is Static Bespoke Web Design?
A static website is a site that has web pages with fixed content. Every page is coded in HTML and displays the same information to all the visitors. These are the most basic type of website and are very easy to create. The static sites are not like dynamic sites, which require a Web programming or database design. They can be built by simply creating some HTML pages and publishing them to a web server. The static websites have fixed codes and so the content of the pages do not change unless it being manually updated by a webmaster. Static websites can be ideal for small websites, but for larger sites, it may pose a problem because the hundreds and thousands of pages may make maintenance hard. But to create static sites with a lot of pages, templates are used. Therefore, updating several pages at once becomes easier and aids in providing a consistent layout throughout the site.
A static website stores a unique file for all the pages of the site. As a result, every time the page is requested the same content is returned. It is generally managed manually and became popular with generators such as Jekyll and Adobe Muse. These sites are simpler to host because the server only needs to serve static content and need not execute server-side scripts. As a result, it requires less server administration and reduces the chance of exposing security holes. Moreover, static websites are better able to serve pages more quickly at low-cost server hardware. Although static websites have become less important because of the cheap web hosting that offers dynamic features, all websites still have some static content. They are used as supporting assets like images and style sheets. Therefore, it can also be used in making web design portfolios. You can also build one-page websites with a static web design as they are just a HTML page where users can use links to navigate or jump through different sections of the page.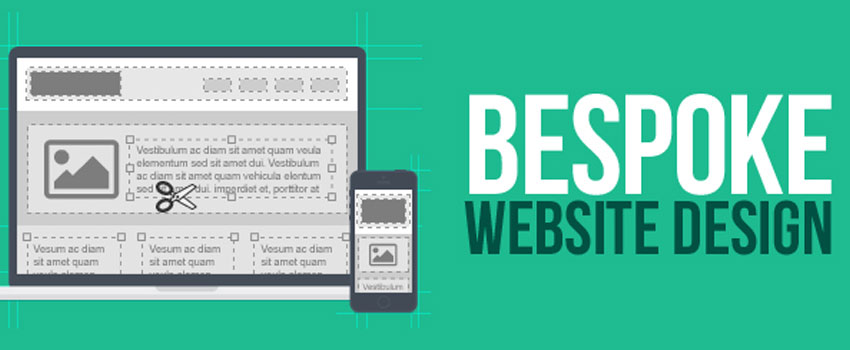 Now that we have considered enough about the 'static web design', we have to shift focus to something known as 'bespoke'. Generally bespoke means, something that is specially customised and tailored to the needs of a particular customer. In the world of web development, a bespoke site is a website that is designed for a single-purpose to fulfil each person's specific and unique business needs.
The internet is filled with a lot of templates, where you can simply choose one, put your logo, and create your site. But is that what your business needs? It is always good to remember that only something that is unique and stands s out from the crowd, will attract customers. Moreover, each business is different and so the needs of each company vary, and so should your web design. Your uniqueness as a business should be reflected o your site. That is why you need a custom-made side that lays the platform between you and your customer.
We understand all your needs and help you create a bespoke web design, that will be used only for your company. We are keen to look into your goals, audience, needs and aspirations and then craft a website that is solely made for you. We ensure that the site is personalised from the inside out, from the visual appearance to the basic features and coding. If you want to personalise a static site based on your needs, that is the 'static bespoke web design' made just for YOU.
What Are The Advantages Of A Static Bespoke Web Design?
Unique and Tailored: Bespoke websites are one-of-a-kind and unique. That means the web design that you have for your site, cannot be found anywhere else on the internet. You can also customise the functional aspects and systems, based on the needs of your business. You need not break your head by going through hundreds of templates to find the best one. With bespoke designs, you can bring in the best of multiple templates in one web design.
Cost-Effective: A static bespoke website is more affordable than dynamic sites. It also requires less time to create a static site. You can build a static site in a fraction of the time that will be required to build a CMS web design.
With a static bespoke web design, you can create multiple types of websites which include, classified website, real estate websites and more.
A brochure design (i.e, a static web design) will be of great help to small start-ups and other small businesses, in letting the world know about something they want to tell. It could be of a future event, your products, or anything else.
Related posts