Mobile-friendly Website – We live in a time when everyone is addicted to their smartphones. Mobile browsing has become necessary for many years and, in some cases, addiction. Mobile browsing exceeded desktop browsing in 2015, and usage is growing exponentially. It's difficult to imagine life without a smartphone these days, considering how simple it is to use and search for the things you need and want. That is why it is important from the perspective of web designers and developers that all websites are responsive and mobile-friendly.
No matter what industry you're in, the transition toward mobile internet usage over the last decade has driven a need for mobile-friendly website designs. So, if your site isn't designed in such a way that it is fast and responsive to use, you're likely losing out on potential growth and profits.
Smartphones are used by more than 75% of people to access websites, and this figure is increasingly rising! It's because they found it easier and more convenient to find what they're searching for. As a result, such a large number cannot be overlooked.
What Makes a Website Mobile-Friendly?
A website that loads easily on smartphones and is also responsive. In a time when everyone is busy, people will often consider visiting a website on their smartphone and expect a fast load from the server to get the information they want.
As a result, a mobile-friendly website allows users to load pages quickly even though they have a weak internet connection. The majority of these websites are tailored for smartphones, tablets, and other mobile devices. It's made to work the same way no matter what screen you're using to view it on. A responsive web design, as well as a mobile-friendly version, can also assist.
Some other essential aspects of a mobile friendly website include:
Clear Calls-to-action (CTAs)
Fast load speed
Touch-friendly buttons
This assist built a consistent user experience across the board, which is a pivotal part of your online presence.
Why Mobile-Friendly Website is Important?
Increases Mobile Customer Base
With 3.8 billion mobile phone users worldwide, you're losing out on a vast number of potential customers if you're not on phones. The buyer's journey has also changed as a result of this change. The average user clicks, swipes, and taps on their smartphone 2,617 times a day, giving them access to the internet from practically anywhere. By developing a mobile-friendly website, you can ensure that your online presence reaches a broader audience and caters to them in a manner that they are comfortable and familiar with.
Enhances the Brand's Identity
Your marketing strategy affects your customer relationship, and your website has a strong impact on how they perceive your business. You have the chance to build a strong brand story and branding for your business by optimizing your site for smartphones. With more smartphone users than ever, this will improve the brand's reputation, build brand awareness, attract new customers and promote more user engagement.
To maintain clear brand identity, make sure that everything you do online adheres to your branding guidelines. This applies to email marketing campaigns, social media sites, and even paid ad campaigns. You will create rapport and encourage conversions among your target audience by taking the time to improve your website and provide a quality experience on a smartphone.
Hones Lead Opportunities
Any well-crafted inbound marketing plan must include the potential to increase leads. How do you know your marketing campaigns are successful if you're not gaining a new customer base that wants what you have to offer?
Since users are always on their mobile devices, having a mobile-friendly website increases the possibility of them engaging with you and developing interest and trust in your brand. Not just that, but it also makes it a lot easier for potential clients to reach you if they already have your site open on their phone.
Enriches User Experience
A user's impression of your business is developed the moment they tap on your website. A poor user interface can greatly impact your engagement with users because they have so many choices at their fingertips. That's why, especially on mobile, site speed is such an essential consideration of the user experience.
Users want a simple and smooth experience. You want to design a page where they don't need to zoom in and out all the time to see what's on your pages. Make sure the buttons are positioned in an "easy-to-reach" place on the screen. Minor details like this can make a big difference between a new lead generated by signup and a higher bounce rate.
Upgrades SEO Ranking
The benefits of having a mobile-friendly website go far beyond the user interface on your website. It influences your organic search results as well. Google and other search engines realize the importance of a mobile-friendly user experience to the point that it is a major factor in determining your SEO ranking.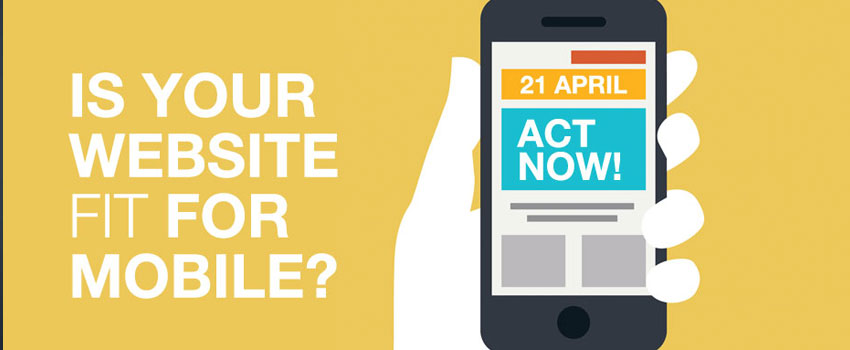 You will be heavily fined if your website does not adapt to the type of device used. This will drop your ranking, reliability and decrease your chances of being noticed organically, making your marketing campaigns more challenging.
Responsive and User-Friendly Mobile Design
Potential clients want an easy and user-friendly website design irrespective of what device they are using or where they are. So, think how vital it is for your website to be mobile-friendly!  The answer is definitely yes! Mobile phones have revolutionized the concept in the mobile phone industry. A smartphone is now used by large number of the world's population. Usage will keep rising, and technological advancements will only enhance the user experience. A fully functional mobile site is now a necessity for every business. You will be repaid with profit and business return if you keep up with the latest trend and handle your web site like you would your desktop website.
Get Your Mobile-Friendly Website Design with Cfactory
Cfactory will take your website to the next level as a full-service digital marketing agency that considers all aspects of an effective digital marketing campaign.
No matter what platform your prospects are using, our team of experts will design a website that facilitates a user-friendly experience. From the expertly crafted content, optimized for SEO, to the visually pleasing interface designed to engage users as they browse your website, this will become your lead generation machine, increasing conversions and assisting you in achieving your business objectives!
From designing a well-optimized, well-designed mobile-friendly website to the best SEO services, we can help refine user experience and derive results. No matter which device or platform your customers or prospects are using, at Cfactory, we ensure they experience a smooth and easy-to-use interface.
We make certain that every design not only looks perfectly fine but also functions smoothly. Content will be re-sized and scaled to make usability simple, quick, attractive, and engaging.
Our team of experienced web developers and creative designers will transform your strategy into action, whether you want to just redesign your existing website or create a new one with a great design. Feel free to contact us straight away!
Related posts