One page websites – are popular and trending. When building a website, we're usually forced to conform to a certain structure that includes a homepage, about page, service page, contact page, social media profiles and so on. This format, however, is not required for all websites. Many people like to develop one-page websites with all of the important information on a single scroll.
Single-page websites are appreciated for their simplicity, user-friendly design, and mobile responsiveness. While some sites, such as an online store, may require more space to exhibit their products, a one-page site is ideal for a landing page, portfolio, etc.
One Page Website— What is it?
This is how you present your content: you make a single scrolling page with sections. One-page websites are usually straightforward, quick, and adaptable. They are completely focused on a single offering, and the goal of a one-page website design is to be a remarkably effective sales tool.
One-page websites provide a quick and easy browsing experience, as well as simple navigation, mobile compatibility, and a clean look. People adore the minimalism of one-page websites in a world where they are often blasted with too much info.
One-page websites are a great choice for a variety of websites, but they aren't a flawless, one-size-fits-all approach.
Many different types of businesses can benefit from a single-page website. The following are a few of them—
Brochure websites
Landing pages
One-time events
Personal Business websites
Portfolios
Resume pages
Single-product websites
So, how does one go about making one? To begin, you select a certain audience and tailor your message to their needs. Then you create your one-of-a-kind, crisp offer with a strong call to action. Finally, you use excellent writing, killer content, and meaningful design to define your solution. A one-page website is one in which all of these parts are combined into a single HTML page.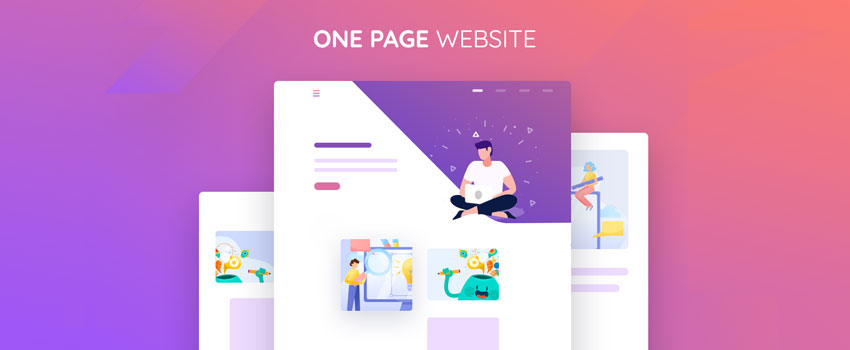 Here are a few general guidelines to follow-
Use headlines that are both striking and eye-catching.
Emphasize the worth of your offer.
In your copy, use active verbs and short sentences.
Solve the fears and concerns of your customers.
Select a clean and minimal style.
Add high-quality, interesting content that stands out.
Create a buzz and gently encourage the visitor to make a purchase right away.
With a single-page website, you have lesser SEO optimization options at your hand, and making it to the top of Google searches is more difficult. However, if you have other consistent sources of traffic, such as display ads or social network ads, it should not be difficult.
Why Is One Page Website Perfect for Businesses?
Consider it this way. One-page websites are lightweight athletes compared to multiple pages websites. It's simple to browse them when out and about. There are no obtrusive links or bulky features. They only have one goal: to present your offer in the most persuasive ways possible. It means a more seamless and dynamic user experience.
With a beautiful one page website, you can—
Highlight the benefits of your product without leading users astray by scattering information across dozens of pages and sections.
Allow your users to convert right away, skipping some of the phases of the customer experience.
Help new visitors comprehend your product more quickly by easing the learning curve.
Reduce the expense of professional website upkeep and save some resources.
Concentrate on obtaining high-quality, ready-to-sell leads.
Add social media icons to expand more reach.
One Page Website— Its Benefits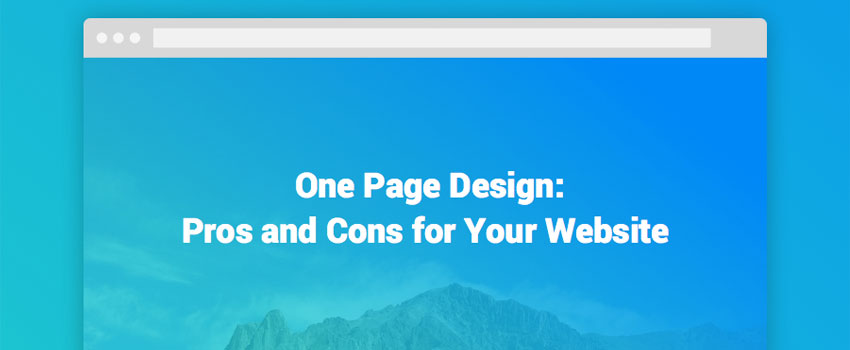 Better Conversions
Bounce Rate Reduction
Clutter Breaking
Cost Effective
Hassle free surfing
Load Speed
Making Changes to The Site Is Much Easier
Refresh Page is Not There
Simplified Storytelling
Works Well Across Devices
One Page Website— Some Useful Tips
"How to create a one-page website?"
"How to give your website a unique, competitive edge?"
If you are juggling with such questions and looking for some tips to create a single-page website, you're at the right place.
Here are some top tips to amaze your website visitors with the one-page website—
1: Focus on the background
2: Choose the right font type and colour combination
3: Make it highly interactive
4: Be a little funky
5: Adopt a website for mobile devices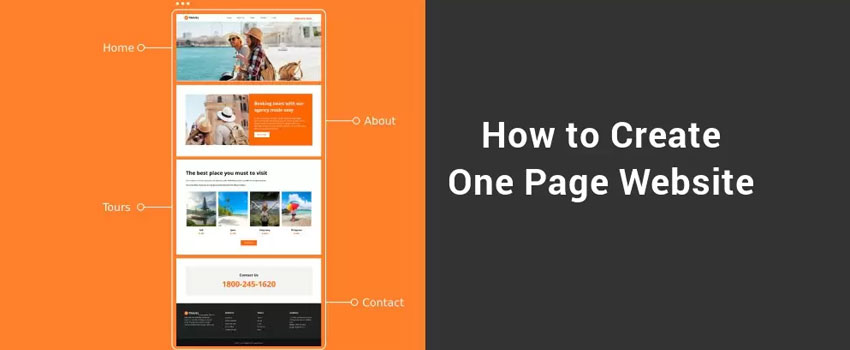 6: Keep it organized and get on-page navigation
7: Develop a working CTA
8: Highlight the contact section
9: Use space wisely
10: Short but punchy web copy
Bonus Tip— Create an Eye-Catchy One Page Website , Powerful Call to Action
The creation of a functional CTA is one of the most important aspects. To begin, let's clarify what CTA is. It's a graphical feature that inspires or urges site visitors to take specific actions, such as buy, download, or sign up for a newsletter.
In other words, a CTA must notify a user exactly what to do and what the site owner expects of them. The use of such features boosts sales and provides effective product advertising.
For an efficient and working, it should—
Be concise, logical and intuitive;
Inspire visitors to take a single (!) action, such as buying, registering, or subscribing;
By colour and form, stand out from the background of the other visual elements (the CTA is usually placed in different containers or buttons);
Summing Up— Is One Page Websites for You?
The beauty of the web is that it's always changing, and in theory, the way we develop our designs would adapt to these changes in our audience's tastes and demands.
Because of the Mobile Web's demand for lightweight, minimalist, self-contained web-based applications, one-page websites will only become more popular. All one-page layouts can be tweaked to look completely different. They are definitely worth considering in your web design projects, even if they are not to everyone's style. Make a one-page website with Cfactory, a creative agency for website design and development. One page website design is one of Cfactory's forte. If you want to use your single-page website as a landing page for your business or brand, get in touch with us right away!
Related posts