The world cannot function efficiently without commerce. Buying and selling are one of the essential tasks in human society. But as of now, things are changing; many people no longer want to go to a brick and mortar store to buy goods. They prefer online shopping which they can do at the comfort of their homes, lying on a couch! Because apart from giving them various options to choose from, it would save them a lot of time, energy, money and resources. Especially in times when pandemics like the COVID-19 takes a toll on peoples lives, they would rather want to sit at home and complete their purchases rather than risking their lives and go to the store. Therefore e-commerce has become an inevitable part of our lives.
And so, if you are an entrepreneur who wants to flourish in your business even in tough times, e-commerce can be the perfect choice for you. And having your own e-commerce website would do so much good in boosting your trade. As you read this article, you will find valuable suggestions for your e-commerce venture.
What Is An E-commerce Website?
The 'E' in it stands for electronic and 'commerce' means doing business. E-commerce is a blended word of these two. Hence, the simple definition of e-commerce is 'a commercial transaction that takes place on the internet '. It is a broad term and thus can include the buying and selling of any goods, services and digital products through the internet.
E-commerce websites are digital portals (i.e., virtual storefronts) that facilitate electronic commerce/business. So, any kind of web pages that has eCommerce functionality and makes it easy for people to purchase goods or service is an e-commerce website. Not only tangible products, but it can also be used for selling digital products like music, movies, audio and video files, templates, software and many more. So in an e-commerce website, people will be able to add your products to their cart, pay you through your website and buy products from your site.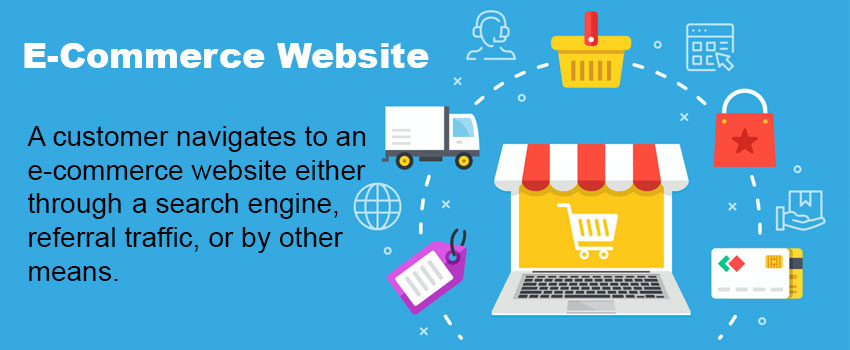 How to Build An E-commerce Website?
Building and establishing an e-commerce website is very much similar to a traditional business. In a conventional store, initially, we would have to buy materials and then look for a store in a crowded place and then market your products and advertise your stores y distributing pamphlets, using banners and other such things.
In the same way, for an e-commerce website, you have to source materials and choose a domain (i.e., the name of your store) and purchase it from domain sales websites. And then you would have to buy hosting. Domain and hosting can be bought from e-commerce platforms. These are e-commerce website builders which help us with the coding part of our website because not many of us know coding languages.
The e-commerce websites built by an online store builder is useful to create and publish your online store quickly and easily. It also allows for live chat with your buyers, with no transaction fees, and also accepts any online payments. Moreover, these store builders do not require any regular monthly payments. The features like one-click shopping work equally well on a smartphone, tablet or desktop/laptop.
With these platforms, you can start selling with ease as they would provide everything, including website design, built-in blog features, order customization, themes and many more. E-commerce platforms also offer a free trial period with exciting e-commerce features for you to find out the best business plan that would choose you.
How Does An E-commerce Website work?
A customer navigates to an e-commerce website either through a search engine, referral traffic, or by other means.
The website connects to its database and shows up the requested page from its enormous amount of data.
The customer likes the product and adds it to their shopping cart.
Checks out by doing the transaction. The e-commerce website accepts payments through a variety of payment methods like credit or debit card payment, PayPal, and other forums.
The payment information is encrypted and sent to a payment gateway for doing it safely and securely.
The order is now complete, and the customer gets a confirmation, estimated shipping time, and a unique transaction number.
Now, once all this is complete, the order is stored in the website's admin and sent to an order fulfilment team. And the order is dispatched.
E-commerce websites also have the option of "abandoned cart recovery ".Yes, this is a super cool feature that helps you remind your customer of their
abandoned purchase. Some customers add products to their cart but leave without completing their order. So, the abandoned cart recovery feature, sends an email automatically after 24 hours of the renounced order, to remind and urge the customer to complete the order and checkout with your fabulous products. This Feature is so helpful as it sends the reminder when your store is still fresh in the customer's mind.
By using marketing tools such as google analytics, email marketing, social media and other mediums, selling online can be made stress-free.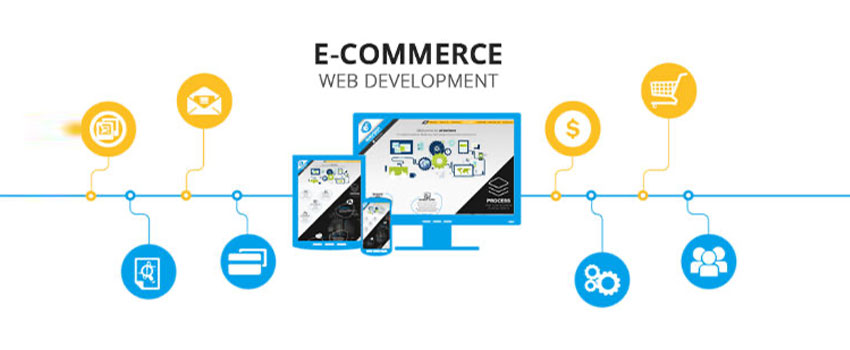 Advantages Of Building An E-commerce Website
As the internet is available all around the globe, once you establish an e-commerce website, it means you can start selling your products throughout the world. So your target customers are large and so will be your profit.
Through social media marketing and influencer marketing, you can easily imprint your brand in the minds of the customers. Further to find you and purchase your products they wouldn't have to take a lot of efforts, instead just by the click of a link they can see your site and trade goods.
Your business transactions can happen anywhere and everywhere around the clock. Which means there is no closing time for your e-store, and thereby you will never lose customers.
There are several things you can do in e-commerce. Like, online retail, wholesale, travel ticketing, online portal classified, crowdfunding, subscriptions and many other things.
Through e-commerce sites, you can also interact with customers, know their concerns and cater to their needs.
Related posts