Responsive Website Design— The Need of Today's Generation
Responsive Website Design – The modern consumers now are using different devices and platforms in their discovery process. Businesses need to make sure that their content and website is well-optimized. It will give the best impression of their company and services, and satisfy the growing demands of the 'always on' generation.
Responsive website design is key. It refers to the flexibility of your website and performance across different devices, making sure that your content scales appropriately and helps steer users through the process.
"What is responsive website design?"
There are three critical components of responsive web design— fluid grid, flexible images and text, and media queries. Responsive web design uses only HTML and CSS.

A responsive website adapts the layout to deliver an experience based on the device being used, particularly suitable for mobile viewing. It is fast becoming essential in today's website designing and building process.
With responsive design, the site automatically adjusts depending on the device or platform the viewer opens it in. The site has different elements that respond differently when accessed on devices of various screen sizes.
A mobile responsive website adds in design elements such as:
Enough space for tap targets
No horizontal scrolling
Readable text without the need to zoom
A non-optimized website can experience a deterioration in their search engine rankings.
Responsive website design is vital as a mobile solution to make sure your website provides an experience personalized to handheld devices.
Why Businesses Need to Switch to Responsive Website Design?
More people are using mobile devices. Check your web traffic and you might just be surprised at how many visitors are getting to your site through mobile devices.
A responsive website designed to automatically resize to fit the size of the screen of the device it is being viewed on and that works competently across all devices is an utter need for businesses or anyone with a digital presence.
Today, the world is changing at an extraordinary pace. With new technologies, apps and gadgets inventing every day, the online world is now fully integrated into the 'real-world'. It has made customers want to use the latest and top-notch technology available to them.
The website should be able to be viewed and accessed on multiple browsers, different devices and screen sizes— in portrait or landscape mode or even small screens. It will ensure maximum usability and user satisfaction.
How Does Responsive Web Design Work?
Responsive websites are designed using flexible grids where each element on the page are correctly sized by proportion and not by pixels. For instance, if you have three columns, you would mention how large each column should be as compared to the other columns.
Based on the size of the user's browser, responsive website design determines the available space and how much of the website it should exhibit.
Images and other multimedia remain within their columns as they are also resized. It helps in avoiding the layout distortion or cropping of images.

Benefits of Responsive Website Design
The benefits of responsive web design are countless. It can positively impact your SEO, user experience, conversion rates and lots of other aspects of your business that contribute to your business growth.
We have shared some of the most important features and benefits of responsive web design—
Enhanced User Experience
A responsive site leads to better and superior user experience. A crucial factor that indicates the quality of user experience is the overall time they spend on your website. If visitors find it hard to use or navigate, or they are forced to zoom constantly, they will get irritated and will ultimately not stay on your website.
But if your website is capable of scaling and responding to the changes in screen size, then visitors will have easy access to buttons, links, menus or filling out forms. Consequently, their user experience will be superior, and they will love spending more time on your site exploring it.
Enhanced site usability and user experience can lead to good word-of-mouth referrals and new clients for your business.
Increased Mobile Traffic
Figures are enough to speak the global web traffic originated from mobile devices. No business can afford to forego responsive web design. Start by exploring how many visitors come from mobile devices and how much time they spend on your site. Once your website starts adapting to the viewport min width, you can see a significant rise in mobile visits and longer time on the website.
Faster Website Development
Developing a mobile version site of your website takes up more time than building a responsive website that looks appealing and works as planned irrespective of the device your visitors are using.
Another disadvantage of a mobile site version is the fact that they cost more— since you need to create two different websites instead of one.
Stress-Free Maintenance
With two different versions of your website, your development team or staff has to allocate time and resources on managing two sites.
But having a responsive website, your team has to spend less time on maintenance tasks. They get more time to focus on other crucial tasks like A/B testing, marketing, product or content development, customer service, and others.
Better Loading Times
A responsive website loads faster on all devices—especially on tablets and smartphones. With fluid grids and responsive images, a page takes significantly less time to load, which directly impacts on the time spent by visitors on the site.
Majority of mobile visitors leave the website if pages take longer than 3 seconds to load. Whereas, if websites load quickly gets better conversion rates and benefit from more time spent on site.

Simpler Website Analytics
Having different desktop, computer and mobile version website, you will have to keep track of two set of website analytics.
With a responsive design, your website statistics are greatly streamlined as you will have a single set of data. You will get insight into which browsers and devices your visitors are using, how long they stay on your site, and where they drop off.
You won't have to read data from multiple reports for getting a clear picture.
Lower Bounce Rates
Bounce rate means the percentage of visitors to a particular site who leave the site right away after seeing a single page only. A responsive website reduces your bounce rate by making visitors stay on your site for longer. Visitors will click through and access other pages on your site and discover everything you have got to offer.
Higher Conversion Rates
Lower bounce rate and more time spent on your site are good initial steps to refining your visitor's user experience and building credibility. That improved trust and user experience lead to improved conversion rates. Your conversion may be either booking an appointment, making a purchase or signing up for the newsletter.
Improved SEO
The most significant benefit of responsive web design is an enhanced search engine rank. Google takes into consideration the responsiveness of your site as one of the crucial signals that decide your website ranking in the search engine results page. If you have a non-responsive website, be ready to watch your competitors winning the game!
Mobile-friendly websites are a much for better search engine ranking.
Better Backlinks
When it comes to building backlinks, a well-designed responsive website can help you. Backlinks play a crucial role in any Search Engine Optimization strategy. It is a way of showing search engines that your website is considered a reputable source of information by other sites. If your page is non-responsive, other sites will be less interested in linking to your site.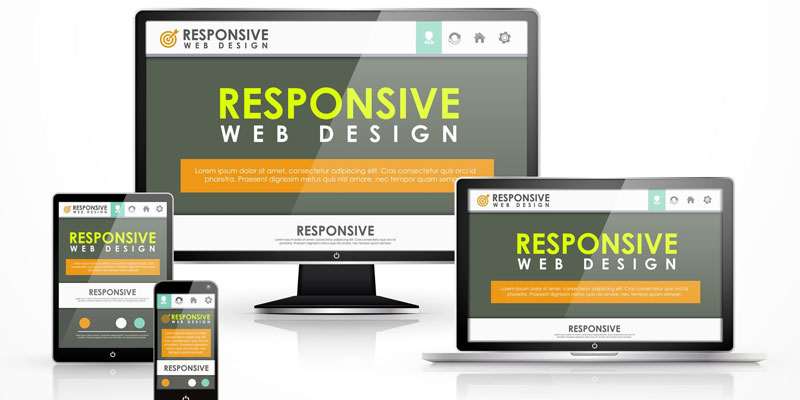 Improve Your Bottom Line with a Responsive Website Design
Responsive web design has many benefits for your business. If your site isn't yet responsive, planning a redesign and a new, fluid layout is the first crucial step. It will assist you in identifying which page elements are most vital, which pages can be disregarded, and how much copy you need to have on your website.
Why Responsive Design is Crucial for Business
Expand reach to customers and prospects on smaller devices (smartphones and tablets)
A consistent experience to boost lead generation, conversions and sales
All can be done in one place— Analytics, reporting and tracking
Time and cost on-site content management is reduced
Stay ahead of the competition by being mobile-ready
The Future of Responsive Design for Mobile
As the number of mobile devices on the market continues to grow significantly, the study of responsive design will only turn out to be more complicated. People nowadays access the web through virtual reality headsets. Smartphones have empowered the creation of entirely new types of apps like augmented reality games, so there will be no lack of unusual challenges going forward.
Decreasing maintenance costs, higher conversion rates and ongoing search engine optimization will be the future concerns for developers.
Modern evolutions in responsive design have focused on adapting smaller screens, and this growing trend has no signs of breaking. Though, it's also crucial to consider users using larger displays so that everyone has good user experience in the end.
The unbelievable growth in mobile phones and smart devices is just the beginning of a shift to more convenient web usage. It's essential to ensure your web pages can be accessed conveniently anywhere by your users and on any device.

Cfactory, a leading web design and development agency, helps your brand or business grow with appealing responsive website design.
Responsive web design is essential for your business. It helps you:
Combine analytics, tracking, and reporting
Compete in your industry with other brands
Decrease time and cost on-site content management
Increase reach to consumers on all devices
Maintain a consistent user experience which boosts retention
Responsive design is a best practice in today's fierce competition. Because responsive web design is mobile-friendly, it assists enhance visibility on search engines, which eventually mean more visitors to your website.
More traffic results in added conversions, better lead generation, and increased sales—three key reasons why you need a responsive web design!
Related posts